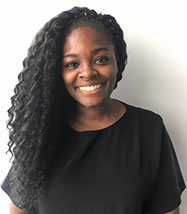 Abena Appah-Sampong, MD
2018 Alumni Scholars, Medical Student Scholars
Abena Appah-Sampong graduated with honors from the University of Chicago in 2016 with a BA in Public Policy and Biology. As an undergraduate, Abena volunteered childcare and tutoring services at the Maria Shelter. After college, Abena completed a public interest fellowship at the Cook County Health and Hospitals System, where she worked to build infrastructure implementing the health system's strategic plan and conducted analyses advocating for the addition of bilingual nursing staff.
As a medical student, Abena is the co-director of the Maria Shelter clinic and serves on the Wellness committee. She co-organized a conference for Black and Latina Women in Medicine in the Chicagoland area and was also as a mentor for HPREP, a healthcare pipeline program for underrepresented minorities. She is also working with Dr. Neda Laiteerpong to forecast future racial disparities in diabetes complications using simulation modeling.
Dr. Appah-Sampong is currently a surgical resident at Brigham and Women's Hospital.