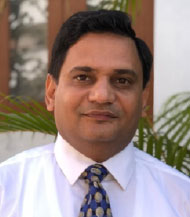 Satendra Singh, MD
2019 International Scholar
Satendra Singh, MD is an Associate Professor of Physiology at University College of Medical Sciences (UCMS), University of Delhi. He is also Executive Member as well as member of the Ethics Committee of the Delhi Medical Council which is a statutory body under the Government of Delhi.
He is a noted disability rights activist and is the first person from India to be awarded the Henry Viscardi award in 2017 which honors exemplary leaders in the disability community who, through the example of their professional accomplishments and advocacy efforts, are reshaping societal perceptions and making significant changes in the quality of life of people with disabilities.
Ten years ago, a series of serendipitous events propelled him and his mentors Navjeevan Singh and Upreet Dhaliwal, to explore the Medical humanities. They founded the Medical Humanities Group at UCMS in 2009 which was the first such initiative in a medical institution in India. Along with Bucksbaum Institute, the group framed disability competencies for health professions education to improve doctor-patient relationship. He is also working on supported decision-making among marginalized population specially people with disabilities.