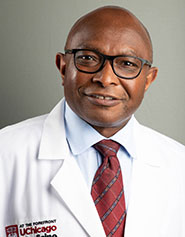 Dr. Kunle Odunsi is the Director of the University of Chicago Medicine Comprehensive Cancer Center (UCCCC), and Dean for Oncology, Biological Services Division at the University of Chicago.
As the Director of UCCCC, he has strategic and broad oversight responsibility for all programmatic aspects of cancer at the University of Chicago including the three primary missions of research, patient care and education. Dr. Odunsi sets the strategic direction of UCCCC, which emphasizes basic, translational and clinical research efforts, collaborative cancer discovery and care, outreach to and engagement of the catchment area, and expansion of development opportunities for early career and promising cancer researchers.
His transition to UCCCC brings his experience as Deputy Director of Roswell Park Comprehensive Cancer Center from 2015-2021 where he also served as the Chair of the Department of Gynecologic Oncology, and the Executive Director of the Center for Immunotherapy. As Deputy Director, Dr. Odunsi provided operational oversight for the scientific, clinical research and educational missions of Roswell Park, and monitored all research-related initiatives, steering development of strategies, programs and policies designed to transfer scientific discoveries to clinical settings.
His research activities in tumor immunology and immunotherapy have focused upon the mechanisms of immune recognition in human ovarian cancer and the pre- clinical and clinical development of tumor antigen targeted therapies. These research activities have been supported by multi-investigator and often multi-institutional awards from the Cancer Research Institute / Ludwig Institute for Cancer Research and by the NIH.
Dr. Odunsi was also Principal Investigator of the Roswell Park Specialized Program of Research Excellence (SPORE) in Ovarian Cancer (P50CA159981), and a New York State Stem Cell Science Program (NYSTEM) to pioneer a novel adoptive T cell therapy concept of reprograming human hematopoietic stem/progenitor cells (hHSC) for continuous generation of long lived and durable antigen-specific T cells for sustained anti-tumor response in ovarian cancer patients. As PI of a T32 training grant in surgical oncology at Roswell Park, he has considerable experience mentoring students, post- doctoral fellows, and junior faculty.
As the Director of UCCCC, Dr. Odunsi is fully committed to diversity, equity and inclusion, and plans to build a culture of inclusive excellence, and facilitate the recruitment and mentorship of a pipeline of world-class cancer physicians and scientists from underrepresented populations.