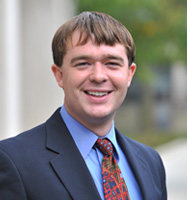 Alexander Ruby, MD, MSc
2010 Alumni Scholars, Medical Student Scholars
Alex graduated magna cum laude from Brown University in 2009 with an ScB in Neuroscience. Following his graduation, Alex coordinated the construction of a community clinic in Bamako, Mali.
As a medical student, Alex researched the extent of false fluency in the health care setting as part of the Health Care Disparities course, and he has continued to explore potential solutions related to the lack of translation services. He also has conducted research with Benjamin Van Voorhees, MD, MPH, on the economic feasibility of an online adolescent depression prevention intervention.
Over the course of his first year, Alex helped conceive of a children's illustrated book — combining information on the flu with artistic illustrations — to expand health literacy for children. He and his fellow students received a grant from the University of Chicago's Arts/Science Initiative to fund the book's initial publication and distribution.
Alex spent the 2013-14 academic year abroad in London where he completed a masters of science in public health at the London School of Hygiene and Tropical Medicine. Alex conducted research on the effectiveness of interventions during humanitarian crises.
Dr. Ruby is an Emergency Medicine physician in El Segundo, CA.