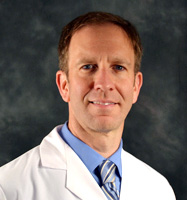 Allen Gustin, MD
2011 Alumni Scholars, Associate Junior Faculty Scholars
Dr. Gustin is a faculty member of the University of Chicago Department of Anesthesiology and Critical Care. He is boarded in both Anesthesiology and Critical Care Medicine. He was a candidate for the Hospice and Palliative Care Medicine boards in 2012. His background is centered on being a physician educator, which is evident from his multiple teaching awards. His research focuses on the use of high fidelity simulation in medical student, resident, and fellow education.
2013 Pilot Grant Project: An Acute Pain Patient with Advanced Stage Cancer AND A Hospice Patient with Respiratory Distress in the ER: Improving Resident Physician Communications with Patients at the End of Life Utilizing Simulation Training
2012 Pilot Grant Project: Improving Patient Perception During Disclosure Conversations if Unanticipated Outcomes
Dr. Gustin joined the faculty at Loyola University in Chicago, IL in 2015.