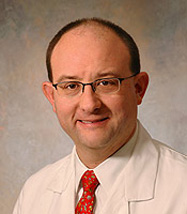 Allen S. Anderson, MD
2012 Alumni Scholars, Senior Faculty Scholars
Dr. Anderson is an Associate Professor of Medicine, Director, Advanced Heart Failure Program, and Medical Director, Cardiac Transplant Service. Dr. Anderson is a highly skilled specialist in heart failure and the care of patients before and after heart transplant. He has extensive expertise in the medical management of heart failure and cardiac transplant recipients.
Dr. Anderson is currently researching promising new therapies and techniques to treat the condition. He is actively involved in national studies involving mechanical circulatory support. Here at the University of Chicago, Dr. Anderson works side by side with other medical and surgical heart failure experts to determine the best treatment plan for each patient. Dr. Anderson is known for his excellent patient care and teaching skills.
In 2013, Dr. Anderson joined the faculty at Northwestern University in Chicago, IL.