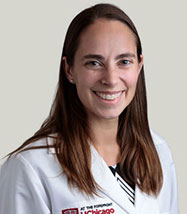 Allison Dalton, MD
2020 Associate Junior Faculty Scholars
Allison Dalton, MD attended medical school at the University of Illinois. She completed an anesthesiology residency at the University of Chicago where she was the chief resident. Following residency, she completed a fellowship in critical care before joining the faculty at University of Chicago.
Dr. Dalton specializes in the perioperative care of critically ill patients. In conjunction with her surgical and medicine colleagues she optimizes preoperative patients for surgery in the anesthesia preoperative clinic. She has expertise in the perioperative care of patients with pheochromocytoma, ALS, and the postoperative care of cardiothoracic surgical patients. In addition, Dr. Dalton has recently been named the director of anesthesia for urologic surgery.
Dr. Dalton is the co-director of Foundations in Clinical Medicine, an intensive course that specifically prepares second year medical students for their clinical curriculum. She is the associate director for Vignettes in Physiology, a course designed to interactively discuss advanced physiology for medical students during their fourth year. In addition to medical student teaching, Dr. Dalton is the associate director of the core anesthesia residency and the director of the anesthesia critical care fellowship.
Dr. Dalton is passionate about wellness and has developed and implemented a peer support program in the department of anesthesia to combat the second victim phenomenon in trauma.