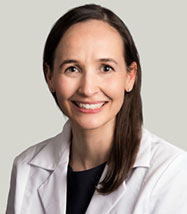 Amanda Silva, MD
2019 Alumni Scholars, Associate Junior Faculty Scholars
Dr. Silva is an Assistant Professor in the Section of Plastic and Reconstructive Surgery. She trained at the University of Chicago for Plastic and Reconstructive Surgery and completed an additional Reconstructive Microsurgery Fellowship at New York University.
Her research interests include improving the patient experience and outcomes in head and neck reconstruction. She is specifically interested in long-term outcomes, quality of life, and investigating how reconstructive details such as flap choice, design, and inset can improve outcomes. She is also interested in the benefits of collaboration amongst specialties who overlap in scope of practice and investigating avenues and barriers to collaboration.
Clinically, she focuses on complex reconstruction from head to toe and has a particular interest in head and neck and facial reconstruction for cancer and traumatic defects including facial nerve surgery.
Dr. Silva is the Quality and Patient Safety Improvement committee member for the division of Plastic and Reconstructive Surgery and is a member of the new formed Department of Surgery Wellness Taskforce.
In 2020, Dr. Silva joined the faculty at the University of Kentucky in Lexington, KY.