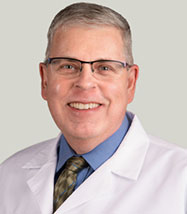 Andrew M. Davis, MD, MPH
2019 Senior Faculty Scholars
Dr. Andy Davis is a Professor and Associate Vice-Chair for Quality in the Department of Medicine. He is board certified in both internal medicine and in public health, and is a practicing clinician educator with research interests in quality improvement, prevention, and chronic disease. He is a clinician-educator with precepting and direct patient care responsibilities in the Primary Care Group and the University of Chicago Student Health Clinic. He was volunteer Attending of the Year in 2014 for Community Health, and is faculty advisor for the Maria Shelter Free Clinic.
Dr. Davis earned his MD from the University of Chicago Pritzker School of Medicine, with residency at the University of Iowa, and his Masters in Public Health in occupational and environmental health from the University of Illinois at Chicago.
Dr. Davis is a section editor for practice guidelines for JAMA, was a visiting scientist at the CDC, and has led disease management programs for a managed care population of 400,000 individuals. Additional facets of his work include LGBT care, and healthcare disparities, including a national review on cardiovascular health disparities commissioned by the Robert Wood Johnson Foundation.