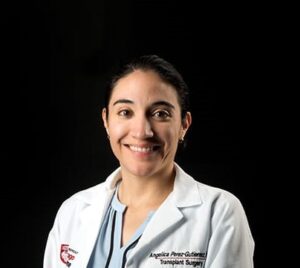 Angelica Perez-Gutierrez, MD
2022 Associate Junior Faculty Scholars
Dr. Perez-Gutierrez is an Assistant Professor in the Department of Surgery, specializing in kidney and liver transplantation.
Dr. Perez-Gutierrez received her medical degree from the University of Veracruz in Mexico, where she graduated summa cum laude. She then completed her General Surgery residency at the National Institute of Medical Science and Nutrition in Mexico City.
Dr. Perez-Gutierrez then spent three years at the Thomas Starzl Transplantation Institute at the University of Pittsburgh performing translational research, focusing on tolerance induction models using cell immune therapy.
She completed an abdominal transplant fellowship and pancreatic islet transplantation fellowship at the University of Chicago and has played an important role in the clinical growth of the Abdominal Transplant Program.
Due to her experience in pediatric transplant surgery acquired during her fellowship, Dr. Perez-Gutierrez is the primary pediatric kidney transplant surgeon at the University of Chicago.
As a Spanish-speaking transplant surgeon, Dr. Perez-Gutierrez is dedicated to helping Hispanic patients and their families who seek the highest-quality transplant care, and she is part of the newly established Hispanic Transplant Program. Her academic work has focused on transplant outcomes and biomarkers. Dr. Perez-Gutierrez has been instrumental in the development of the biorepository of the University of Chicago Transplantation Institute, which has the goal of fostering transplant research and collaborations. At the same time, she continues her own translational efforts, which are demonstrated in her multiple peer-reviewed publications in high-impact journals.