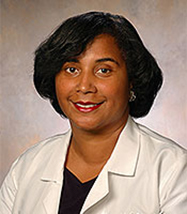 Anita Blanchard, MD
2014 Senior Faculty Scholars
2014-2015 Senior Faculty Scholar – Retired
Anita Blanchard, MD'90, is a Professor of Obstetrics and Gynecology (OB-GYN) at UChicago Medicine and serves as Associate Dean for Graduate Medical Education and Designated Institutional Official, supervising and supporting 133 residency and fellowships programs including 1023 residents and fellows. She maintains accreditation standards, promotes professional development, and fosters strategic initiatives and innovation in medical education. She served as the associate program director in OB-GYN for 5 years and residency program director for OB-GYN for 13 years prior to her promotion to the GME office in 2017. She has devoted 22 years of her career to medical education.
As a practicing gynecologist, Dr. Blanchard specializes in treatment of cervical dysplasia, menopause management, and geriatric gynecologic care. She is a former trustee and past vice president of the board of directors for the American Board of Obstetrics and Gynecology, a former member of the Accreditation Council for Graduate Medical Education (ACGME) OB-GYN review committee, and the University's co-PI of the ACGME Pursuing Excellence Initiative.
Dr. Blanchard is committed to enhancing Chicago's South Side community by increasing the diversity of physicians and building programs to fulfill community needs. She has created innovative community programs including seminars highlighting maternal and adolescent topics. She also founded the Graduate Medical Education Resilience Initiative focused on physician wellbeing. Together with the Urban Health Initiative team, her Graduate Medical Education team launched a new program, Community Champions, facilitating resident and fellow participation in community engagement in Winter 2021.
Dr. Blanchard earned a bachelor's degree in Neurobiology and Physiology from Northwestern University and completed medical school and her OB-GYN residency at the Pritzker School of Medicine. She is active in many civic organizations and enjoys living in the South Side community she serves with her husband, Martin Nesbitt and their five children.