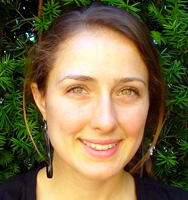 Anne Lauer Castro, MD
2010 Alumni Scholars, Medical Student Scholars
Anne graduated magna cum laude from the University of Notre Dame in 2007 with a B.A. in English Literature and minors in French Literature/Francophone Studies and International Peace Studies. Following graduation, Anne spent two and a half years as a volunteer social worker at an orphanage in Honduras.
As a medical student, under the mentorship of Dr. Niranjan S. Karnik and with a Summer Medical Student Fellowship from the Academy of Child and Adolescent Psychiatry (AACAP), Anne has researched the effects of homelessness on the mental health and behaviors of Chicago homeless youth. She presented her initial findings at the AACAP's annual conference in October.
Anne also serves on the Pritzker student board for the Community Health Clinic, a free clinic in Chicago's West Town; is Academic Chair for the International Medicine Interest Group; and co-coordinates SAMS, a student-run group that offers practice in medical Spanish.
Dr. Castro is an Assistant Professor in the Anesthesiology Department at the Medical College of Wisconsin in Milwaukee, WI.