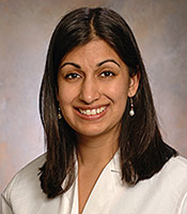 Anshu Verma, MD
2015 Alumni Scholars, Associate Junior Faculty Scholars
Dr. Verma is a general internist who specializes in the comprehensive care of adult patients in both the inpatient and outpatient settings. After earning her undergraduate degrees in Chemistry and Public Policy Studies from Duke University, she received her medical training at UNC-Chapel Hill and completed her residency in Internal Medicine at the University of Chicago. She then joined the section of Hospital Medicine as part of the Comprehensive Care Program.
Dr. Verma's academic interests include health care delivery innovation and quality improvement. She is especially interested in ways to reduce costs and improve clinical outcomes for frequently hospitalized and medically complex patients. Dr. Verma is also active in medical education, and spends time precepting both residents and medical students.
Dr. Verma now practices at the Johnston-Willis Hospital in Richmond, VA.