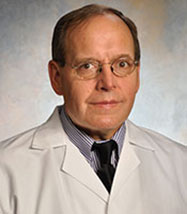 Anthony Montag, MD
2017 Senior Faculty Scholars
Dr. Anthony Montag was a Professor of Pathology and the Associate Dean of Admissions for the Pritzker School of Medicine. Dr. Montag attended the Medical College of Wisconsin, where he also completed an Internal Medicine internship and Clinical Pathology residency. He completed an Anatomic Pathology residency and Gynecologic Pathology fellowship at Boston's Brigham and Women's Hospital, and was recruited to the Pathology and Obstetrics and Gynecologic faculties at the University of Chicago as an Assistant Professor.
Dr. Montag's academic interests included clinical and translational work on ovarian and uterine carcinoma and bone and soft tissue tumors.
Dr. Montag taught medical and graduate students at the University of Chicago for over 30 years, and trained nearly two hundred Pathology residents and fellows. He received the medical school's favorite faculty award six times, an AOA teaching award, and election to the Academy of Distinguished Medical Educators. In medical school admissions he focused on increasing the diversity of the matriculating class and recruiting empathetic students with a history of service to others.