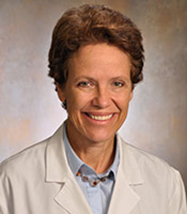 Arlene Chapman, MD
2016 Master Clinicians
A renowned nephrologist, Arlene Chapman, MD, is dedicated to improving the lives of patients with renal disease. Dr. Chapman's career has focused on hereditary renal diseases. Dr. Chapman also sees patients with chronic kidney disease of all causes, and those who are pregnant with underlying renal disease.
Dr. Chapman studies personalized or precision medicine and the role that genetic background plays in predicting antihypertensive responses to blood pressure medications used to treat hypertension. Dr. Chapman's early investigations centered on the renal and systemic changes to blood circulation that occur during preeclampsia. She has received continuous funding for her work from the National Institutes of Health (NIH) over the past 18 years.
Dr. Chapman's academic contributions include membership on several NIH committees as well as the Scientific Advisory Council for the Polycystic Kidney Disease Research Foundation and the Council for the American Kidney Societies. Dr. Chapman is the current director of the Clinical Resource Center for the Institute of Translational Medicine in the Biological Sciences Division at the University of Chicago. She has published nearly 170 peer-reviewed publications and book chapters, and previously served on the editorial boards for American Journal of Kidney Diseases, Kidney International and the Journal of the American Society of Nephrology.
In addition, Dr. Chapman is a dedicated mentor and educator for medical students, interns and residents. She is actively involved in teaching fellows about various topics in nephrology and guides them in their research.