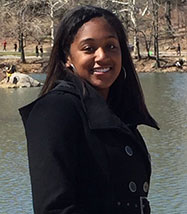 Ashley Hite, MD
2015 Alumni Scholars, Medical Student Scholars
Ashley Hite, graduated from Washington University in St. Louis in 2013 with a BA in Psychology, Neuroscience and Philosophy and a minor in Children's Studies. Following graduation, Ashley taught and coached sports teams for a year at a charter school in Newark, NJ.
Under the mentorship of Dr. Beth Plunkett, Ashley completed a research project titled "Exploration of Barriers Facing Physicians in Diagnosing and Treating Obesity." This summer, under the advisement of Dr. Vela and with two of her fellow classmates, she served as a TA and coordinator for the Chicago Academic Medical Program, where they exposed minority students to the field of medicine through enrichment and mentoring. She also was invited to attend the Hazelden Betty Ford Summer Institute for Medical Students where she gained insight into the approach to treatment of the chemically dependent person through lecture, group therapy sessions and meals with patients with patients and specialty groups.
In medical school, Ashley was the co-President of Students National Medical Association (SNMA) and served on a free clinic board as Education chair of Maria Shelter Clinic, a free clinic for women in Englewood. She also served as the co-director of the Psychiatry Interest Group. Ashley was the fundraising chair for REMEDY, a medical service group, and this summer went on a medical service trip to Peru.
Dr. Hite is a Medicine Resident at the University of California, Los Angeles.