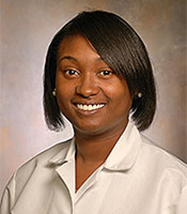 Audrey Tanksley, MD
2015 Alumni Scholars, Associate Junior Faculty Scholars
Audrey L. Tanksley MD was born and raised on the south side of Chicago in the Roseland community. She attended Southern Illinois University Carbondale and received a Bachelor of Arts in Biological-Sciences. Following this she attended Southern Illinois University School of Medicine in Springfield, IL and completed studies in general medical education. During the time in Springfield, Dr. Tanksley, was vice president of the class of 2009, served as a student representative to the AAMC, assisted with LCME accreditation and received a grant to provide health and oral screenings to the people of Sangamon County. Dr. Tanksley returned to the Chicagoland area to complete her Internal Medicine residency training at UIC/ Advocate Christ Medical Center where she also served as chief resident. Upon completion of chief year, Dr. Tanksley transitioned into a 2 year Medical Education Research Fellowship at The University of Chicago Medical Center.
As a Medical Education, Research, Innovation, Teaching and Scholarship (MERITS) fellow at the University of Chicago, Dr. Tanksley's academic work focused on healthcare disparities, communication, professionalism and resident supervision. She also assisted with investigations of the TEACH pipeline program for high school students. Her scholarly work has been presented at various regional and national conferences, including the Association of American Medical Colleges and the Society for General Internal Medicine. She is currently conducting an analysis of a novel curriculum created to teach residents how to obtain Informed Consent using a culturally sensitive approach. She has also worked on improving patient safety through resident supervision in the ambulatory environment.
As a General Internist, Dr. Tanksley supervises internal medicine residents and students caring for patients in the primary care clinics and general medical floors. She has worked closely with Drs. Arora and Farnan on qualitative research with high school students using focus groups, and is experienced with the use of Atlas software. She has also worked on quantitative projects as well and is experienced with the use of STATA software.
Dr. Tanksley now practices with ACCESS Community Health in Chicago, IL.