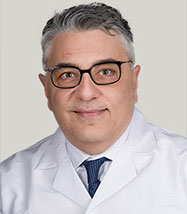 Aytekin Oto, MD, MBA
2019 Senior Faculty Scholars
Dr. Aytekin Oto is Professor of Radiology and Surgery, and Interim Chair of Radiology at the University of Chicago. Dr. Oto has expertise in the imaging of diseases affecting the abdomen and pelvis.
Dr. Oto's research interest is in the development and clinical application of novel prostate MRI acquisition and interpretation to improve the efficiency of prostate cancer treatments including image guided prostate therapy options for select patients. His research has two primary focus areas: "non-invasive and accurate diagnosis of aggressive prostate cancer using MR imaging" and "eradication of localized prostate cancer with minimal complications using minimally invasive treatment methods". His research has resulted in more than 200 publications and over 200 scientific exhibits at national and international meetings.
Dr. Oto has also developed novel MR sequences, pilot CAD software for prostate MRI, and tested MR guided therapy methods such as laser and focused ultrasound ablation in clinical and pre-clinical studies. He has several industry, foundation, and NIH grants and serves at the Editorial Board of Radiology. Dr. Oto has received numerous awards including Distinguished Investigator Award, RSNA honored educator award, and Distinguished Senior Clinician Award.