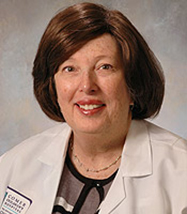 Barbara Kirschner, MD
2014 Alumni Scholars, Senior Faculty Scholars
Dr. Kirschner is a Professor of Pediatrics and Director of the Pediatric Inflammatory Bowel Disease (IBD) Program at The University of Chicago Comer Children's Hospital.
She has a longstanding interest in contributing to understanding the pathogenesis of IBD and improving care for children and adolescents with IBD. In this regard, she helped establish the PediIBD Research Consortium and has continued to collaborate with centers and consortia nationally to enhance knowledge relating to the genetics, microbiome and natural history of pediatric IBD. In addition, she is the site principal investigator for several clinical drug trials designed to determine the efficacy, safety and dosing of new therapeutic modalities for this patient population. She, along with colleagues within the Pediatric GI Section, have established one of the largest practices of children and adolescents with IBD and is considered to be an expert in the care of this population.
Dr. Kirschner has published over 130 peer-reviewed articles and book chapters in her field and has lectured nationally and internationally in topics related to pediatric IBD.
In addition to the clinical and research activities described above, Dr. Kirschner greatly enjoys teaching medical students, house staff, fellows and faculty and has been selected to receive an annual Teaching Award from the Pediatric Residents.