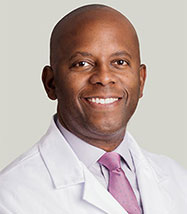 Brian H. Williams, MD, FACS
2019 Alumni Scholars, Senior Faculty Scholars
Dr. Brian H. Williams earned a degree in Aeronautical Engineering from the United States Air Force Academy. After six years of military service, he enrolled at the University of South Florida Morsani College of Medicine.
Dr. William completed his general surgery residency at Harvard Medical School/Brigham and Women's Hospital and a fellowship in trauma surgery and surgical critical care at Emory University/Grady Memorial Hospital in Atlanta. Dr. Williams served as a trauma and acute care surgeon at UT Southwestern Medical Center/Parkland Memorial Hospital in Dallas where he also taught and mentored students, residents, and fellows.
Dr. Williams is known for his role in treating victims of the July 2016, Dallas police shooting. He was the surgeon working the night seven injured officers were transported to Parkland Memorial Hospital. At a press conference following the tragedy, his heartfelt comments about racism, gun violence, and policing touched thousands.
Dr. Williams's interests focus on racial inequities in healthcare, diversity in medical education, and addressing the root causes of gun violence. In addition to his work as an academic surgeon, Dr. Williams travels the country speaking and sharing his unique insight on resilience, racial equity, and social justice.