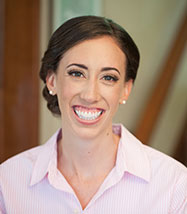 Brooke Gabster, MD
2010 Alumni Scholars, Medical Student Scholars
(1988-2021)
Brooke Gabster graduated summa cum laude from Princeton University in 2011 with an A.B. from the Woodrow Wilson School of Public and International Affairs. Before medical school, Brooke worked for Deloitte Consulting LLP, where she helped the Military Health System design innovative programs to reduce tobacco use and obesity, and guided Navy Medicine's implementation and evaluation of a patient-centered medical home model of care at over one hundred clinics. In addition to her domestic health experience, Brooke has worked on global health projects in Germany, Thailand, and South Africa.
At the Pritzker School of Medicine, Brooke is the co-director of the Maria Shelter Clinic, a free clinic in a homeless shelter in Englewood. She also helps evaluate and improve the medical school curriculum as a member of the Pre-Clinical Curriculum Review Committee. Additionally, under the mentorship of Dr. David Meltzer, Brooke is conducting research about how a new model of care designed to increase physician-patient continuity might improve discussions about end-of-life care: her project titled "The Impact of the Comprehensive Care Physician Program on Advance Care Planning" earned Honorable Mention for Excellence in the Pritzker Summer Research Program.
Dr. Gabster is an Internal Medicine Resident at Stanford University in Stanford, CA.