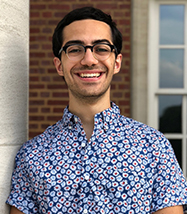 Camron Shirkhodaie
2020 Medical Student Scholars
Camron Shirkhodaie graduated with honors from Vanderbilt University in 2019 with a B.S. in Biological Sciences and Medicine, Health and Society and a minor in Chemistry.
At Prtizker, Camron was the co-director of Maria Shelter Free Clinic, where he, along with the rest of free clinic leadership, were able to implement telemedicine to continue seeing patients during the COVID-19 pandemic. In addition, Camron was also a part of Reach Out and Read, Students for a National Health Program, and Middle Eastern and North African Student Association.
Under the mentorship of Dr. John Blair, Camron conducted research on outcomes of and risk factors associated with patients with concomitant deep vein thrombosis and pulmonary embolism who receive catheter-directed therapy.