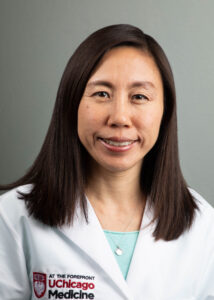 Carina Yang, MD
2022 Senior Faculty Scholars
Dr. Carina Yang is an Associate Professor of Radiology, Vice Chair of Diversity & Inclusion, and the Director of Pediatric Neuroradiology. She also served as the Director of the Neuroradiology Fellowship for 8 years. Dr. Yang is an expert in interpretation of neuroradiological CT and MR examinations, and promotes techniques to minimize radiation exposure and performing imaging without the need for extended sedation for pediatric patients.
A triple major at the Massachusetts Institute of Technology, Dr. Yang completed her medical degree at Northwestern University Feinberg School of Medicine, and stayed local to complete her Radiology Residency as well as Neuroradiology Fellowship at Northwestern. She previously worked in Pediatric Neuroradiology at Children's Memorial Hospital here in Chicago.
Dr. Yang is highly devoted to educating students, trainees, and radiologists from around the world. She was the recipient of the University of Chicago Pritzker School of Medicine Medical Education Research, Innovation, Teaching and Scholarship (MERITS) in 2016-2017. She was also selected as a Semi-Finalist for Most Effective Radiology Educator "Minnies" in 2022 on AuntMinnie.com,
She is a leader in the field of medical simulation in radiology. She developed a simulation program to train radiology residents and fellows in the diagnosis and management of contrast reactions. She also co-directed a similar, larger scale hands-on workshop at the Radiological Society of North America. She also explored image-guided spine procedures using a lumbar task trainer and ImmersiveTouch virtual reality and haptic simulator. Dr. Yang has authored several peer-reviewed articles on the use of simulation in radiology.
Dr. Yang co-founded the Chicagoland Radiology Expo, now in its 7th year, which provides medical students an opportunity to learn about the field of radiology through a series of interactive panels and hands-on activities. In particular, sessions on underrepresented minorities and women in radiology help to promote diversity in this specialty. She continues to shape the departmental diversity program, with emphasis on recruitment processes and community outreach.
She has completed multiple international visiting professorships imparting pediatric neuroradiology knowledge across the world, including Newfoundland, India, Hong Kong, and most recently Ethiopia, as the 2019 Anne G. Osborn American Society of North America International Outreach Professor. She hopes to continue to further her worldwide educational endeavors.