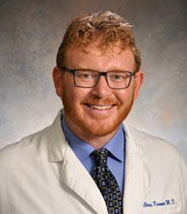 Christopher Kramer, MD
2019 Junior Faculty Scholars
Dr. Christopher Kramer is an Assistant Professor of Neurology and Neurosurgery in the Section of Neurocritical Care. He received his medical degree from the Chicago Medical School. He then went on to pursue his Neurology residency training at the Mayo Clinic in Arizona followed by his Neurocritical Care fellowship at Mayo Clinic in Minnesota before joining the faculty at the University of Chicago in 2015.
Dr. Kramer has a passion for medical education and serves as the Neurocritical Care Fellowship Program Director and as a member of the Neurology Resident Education Committee and the Clinical Competency Committee. He is currently enrolled in the Medical Education Research, Innovation, Teaching and Scholarship (MERITS) program at the University of Chicago. Nationally, he was involved in the creation of the Essentials of Neurocritical Care, an educational endeavor for providers through the Neurocritical Care Society. He is a faculty advisor to neurology residents, is developing a simulation-based curriculum for learners of various levels and backgrounds on neurological emergencies.
His research interests include the impact of communication on providers and families in the neurocritical care unit, novel treatments for acute ischemic stroke, penetrating traumatic brain injury, prognostication after cardiac arrest, and brain death.