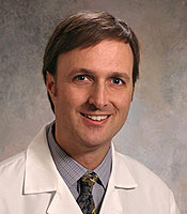 Christopher Straus, MD
2013 Senior Faculty Scholars
Dr. Christopher Straus M.D. is a board certified radiologist with special interest in musculoskeletal and interventional radiology. He attended the Pritzker School of Medicine at the University of Chicago and then completed his residency and fellowship training at the same institution. He now practices as an Associate Professor in the Department of Radiology. He initially incorporated an administrative interest when first hired when his first chair asked him to preserve his general radiology skills and assist in meeting the more broad departmental needs by interpreting images in numerous departmental subspecialties beyond his initial post graduate training in IR. This more global outlook has led to administrative leadership positions, serving concomitantly as Radiology Medical Director of patient services, Associate Medical Director of Radiology Operations and as the Director of Student Education.
Recently efforts have been concentrated in the realm of education and expanding the role as Radiology Director of education by serving on various committees and task forces, including the invitation to serve on the board of the Alliance of Medical Student Educators in Radiology (AMSER) and board of the Association of University Radiologists (AUR). The radiology department's role in basic education of medical students has increased significantly with efforts to change how medical imaging is not only taught to medical students but clear attempts to improve patient understanding and effective optimal allocation of these imaging resources.
Administratively, Dr. Straus has a specific interest in patient safety and issues of communication. He has served as a consultant for numerous years and looks forward to expanding these important issues with relative national radiology professional organizations. At the University of Chicago Medical Center he serves on many related committees pertaining to his interests including Forms and Medical records, Patient Safety, Housestaff outreach and the Claims and Review Committee to name a few.