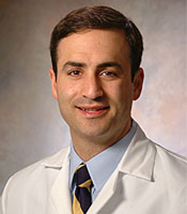 Dan Golden, MD, MHPE
2018 Junior Faculty Scholars
Dr. Golden is Assistant Professor, Medical Student Clerkship Director, and Associate Residency Program Director in the Department of Radiation and Cellular Oncology. He completed residency at the University of Chicago. He is a graduate of the Pritzker School of Medicine Medical Education Research Innovation Teaching and Scholarship (MERITS) fellowship and is nearing completion of a Masters of Health Professions Education (MHPE) at the University of Illinois at Chicago.
Dr. Golden's clinical practice is at the University of Chicago Medicine Comprehensive Cancer Center at Silver Cross where he treats a broad array of cancers with external beam radiation. Dr. Golden focuses on educating his patients about their disease and treatment process with the goal of reducing anxiety and improving treatment compliance and outcomes.
His academic interests focus on education. He founded the Radiation Oncology Education Collaborative Study Group (ROECSG), which develops, implements, and evaluates radiation oncology curricular innovations using a collaborative group study model. The ROECSG structured didactic clerkship curriculum is implemented at 22 radiation oncology departments and demonstrates subjective and objective improvements over the traditional clerkship model. Dr. Golden enjoys spending time teaching and mentoring medical students and residents. He received the Radiation and Cellular Oncology Resident Physician teaching award in 2015.