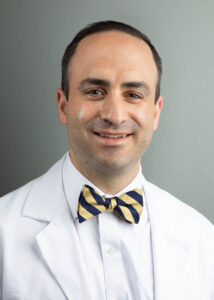 Dan Golden, MD, MHPE
2018 Alumni Scholars, Senior Faculty Scholars
Dr. Golden is Associate Professor, Medical Student Clerkship Director, and Associate Residency Program Director in the Department of Radiation and Cellular Oncology. He completed residency at the University of Chicago. He is a graduate of the Pritzker School of Medicine Medical Education Research Innovation Teaching and Scholarship (MERITS) fellowship and completed a Masters of Health Professions Education (MHPE) at the University of Illinois at Chicago.
Dr. Golden's clinical practice is at the University of Chicago Medicine Comprehensive Cancer Center at Silver Cross where he treats a broad array of cancers with external beam radiation. Dr. Golden focuses on educating his patients about their disease and treatment process with the goal of reducing anxiety and improving treatment compliance and outcomes.
His academic interests focus on patient and trainee education. In 2017 Dr. Golden received a pilot grant from the Bucksbaum Institute to develop a graphic narrative discussion guide to help providers communicate to patients what to expect during the radiotherapy treatment process.  Along with additional extramural funding from the Radiation Oncology Institute and collaborators at The University of Chicago, IIT Institute of Design, UIC, and Harvard, he has since developed a series of seven Communicating the External Beam Radiotherapy Experience (CEBRE) guides and three Communicating the Gynecologic Brachytherapy Experience (CoGBE) guides. In addition, the CEBRE en Español guides are culturally appropriate translations of the original CEBRE guides in Spanish.  The discussion guides have been downloaded for use internationally.  Dr. Golden also founded the Radiation Oncology Education Collaborative Study Group (ROECSG), which develops, implements, and evaluates radiation oncology curricular innovations using a collaborative group study model. As of 2022 ROECSG has over 600 members representing more than 200 member institutions around the globe.  Dr. Golden enjoys spending time teaching and mentoring medical students and residents and he received the Radiation and Cellular Oncology Resident Physician teaching award in 2015. As of 2023, Dr. Golden has joined the Radiation Oncology staff at Rush University in Chicago, IL.