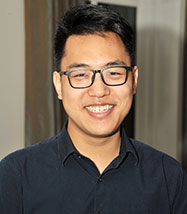 Daniel Ahn
2019 Medical Student Scholars
Daniel Ahn graduated from the University of Chicago in 2018 with a B.S. in biology and a minor in human rights. In 2017, Daniel was a recipient of a summer internship award from the University of Chicago Pozen Family Center for Human Rights. He worked as a researcher at the Hastings Center in Garrison, New York, on access to dialysis among undocumented immigrants with end-stage renal disease.
As a 2019-20 Schweitzer Fellow, Daniel is running a year-long program on gender justice and immigrant youth empowerment for young men of color at the HANA Center. At Pritzker, Daniel serves as president of the Asian Pacific American Medical Students Association and helped organize the University of Chicago's inaugural Asians in Medicine conference in May 2018, which brought more than 70 medical students and faculty from Chicago. He also served as a mentor for HPREP and participated in the JOURNEES trips to Mississippi and South Dakota.
Under the mentorship of Dr. Milda Saunders, Daniel has conducted research on factors associated with the quality and frequency end-of-life care planning among African American hemodialysis patients.