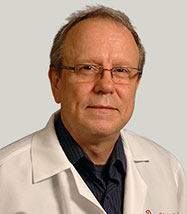 Daniel J. Haraf, MD
2012 Senior Faculty Scholars
Dr. Haraf is the Professor of Radiation & Cellular Oncology and the Medical Director of Radiation Oncology. Dr. Daniel Haraf is an expert in the treatment of lung, esophageal, and head and neck cancer. He was instrumental in pioneering the use of intensity modulated radiation therapy (IMRT)—a highly precise form of three-dimensional conformal radiotherapy. IMRT uses computers to accurately plan and deliver radiation with the fewest possible side effects for patients.
He has become a nationally recognized leader in the treatment of head and neck cancer (HNC). Dr. Haraf has been a major force in developing a program using chemotherapy together with IMRT in the treatment of patients with HNC—reducing or eliminating the need for extensive, debilitating, or mutilating surgery. This program has a long track record curing cancer with preservation of normal organ function as documented in the medical literature. Dr. Haraf is proud that we can actually discuss the expected results with our patients based on detailed analyses of our own treatment program.
Dr. Haraf has also pioneered re-irradiation for patients with recurrent cancer of the head and neck. People with recurrent cancer after radiation often have limited treatment options and little chance of cure. Most radiation oncologists will not consider offering a second round of radiation treatment. Dr. Haraf has found that re-irradiation is possible and offers these people their only chance of cure.
He is active in developing new methods of radiation delivery for patients with lung and esophageal cancer. Cancers in the chest can move while people breathe during treatment. We now have the technology to time the delivery of radiation to a specific part of respiration. The result is greater accuracy in treating the cancer while limiting the amount of normal lung tissue exposed to radiation.