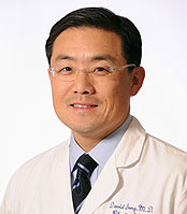 David Song, MD, MBA
2013 Alumni Scholars, Senior Faculty Scholars
David H. Song, MD, is an internationally recognized expert in plastic surgery with additional training in reconstructive microsurgery. He specializes in breast reconstruction and oncoplastic surgery—a combination of lumpectomy and reconstructive techniques.
Dr. Song is well recognized for his extensive experience with perforator breast reconstruction procedures, including deep inferior epigastric perforator flap (DIEP), superior gluteal artery perforator flap (SGAP), superficial inferior epigastric artery flap (SIEA), thoracodorsal artery perforator flap (TAP). He is also skilled in the use of acellular dermal matrix (AlloDerm) in implant breast reconstruction and in the reconstruction of abdominal wall defects. Additionally, Dr. Song has pioneered several techniques for the repair and reconstruction of chest wall defects. His research interests focus on outcome improvement in lumpectomy and mastectomy reconstruction. He is involved in several clinical trials exploring advancements in these procedures. In 2008, he received the Arthur G. Michel Clinician of the Year award from the Y-ME National Breast Cancer Organization.
In addition, Dr. Song serves on the board of Medical Aid for Children of Latin America (MACLA), an organization that provides free surgical care for children with congenital deformities in the Dominican Republic. He is a fellow in the American College of Surgeons, and past president of the Chicago Society of Plastic Surgeons. Dr. Song is also a past board member of the American Society of Plastic Surgeons (ASPS) and the Association of Academic Chairmen of Plastic Surgery (AACPS).
Dr. Song received an MBA from the University of Chicago Booth School of Business, which further equips him to advance healthcare delivery, particularly in the areas of breast cancer awareness, treatment and prevention.
2013 Pilot Grant Project: Dynamic Operational Mapping – Annotation for Patient and Family Education
Dr. Song is now head of plastic surgery at Georgetown University in Washington, DC.