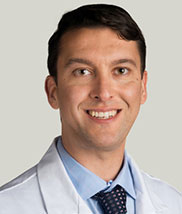 Dejan Micic, MD
2018 Junior Faculty Scholars
Dr. Dejan Micic earned his undergraduate and medical degrees from the University of Wisconsin School of Medicine and Public Health. He completed his internal medicine residency at the University of Michigan where he received the Laurie Edmunds Award for his service as an intern. He completed his subspecialty training in gastroenterology at the University of Chicago where he received the Gastrointestinal Research Foundation (GIRF) fellows research award. Dr. Micic completed additional training in Clinical Nutrition at Northwestern University before returning to the University of Chicago to join the faculty in the Section of Gastroenterology, Hepatology and Nutrition.
His clinical interests include the treatment of inflammatory bowel disease (IBD) and the management of gastrointestinal conditions that result in nutritional disorders, such as short bowel syndrome and celiac disease.
His broad research interests include studying how patients respond to medical therapies in IBD and predicting their health outcomes. He is also active in IBD and nutrition related translational research studies. His interests in nutrition include the management of parenteral nutrition, identification of malnutrition and nutrition education.
Dr. Micic has a strong clinical and educational interest in improving the quality and management of patients requiring nutritional support.