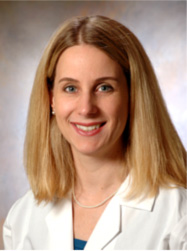 Diana L. Mitchell, MD
2011 Alumni Scholars, Associate Junior Faculty Scholars
Diana Mitchell, M.D. is an Instructor of Pediatric Critical Care. She cares for critically ill patients in the Pediatric Intensive Care Unit.
Dr. Mitchell received a Bachelor of Arts in History from Indiana University. She worked for several years as a youth education director for AmeriCorps in Denver, Colorado before entering medical school at Southern Illinois University School of Medicine. Dedicated to working with children from the Southside of Chicago, Dr. Mitchell completed her Pediatric residency, Chief Residency, and subspecialty training in Pediatric Critical Care at The University of Chicago.
Dr. Mitchell's research interest focuses on multidisciplinary medical education using medical simulation. Simulation based training uses high fidelity computerized mannequins to train members of the pediatric critical care team. Dr. Mitchell implemented and currently runs a curriculum for pediatric residents and nurses that focuses on caring for a critically ill pediatric patient. The goal of this curriculum is to train all members of the medical team to provide competent and compassionate care to the most critically ill children.
2012 Pilot Grant Project (joint project with Dr. Alisa McQueen): Communications During Pediatric Resuscitation
Dr. Mitchell practices at Advocate Children's Medical Group in Illinois.