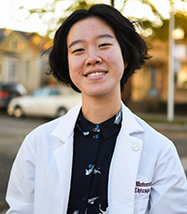 Diana Li
2020 Medical Student Scholars
Diana Li graduated from Johns Hopkins University in 2017 with BAs in Biophysics and Writing Seminars. They also received an MFA in Poetry from Rutgers University-Newark in 2019, where they taught English Composition.
At Pritzker, Diana served as co-president for OUTPatient (LGBTQ+ People in Medicine), as well as the Community Outreach Director for both the Bridgeport Free Clinic and the Asian Pacific American Medical Students Association. They currently serve as a class representative for Pritzker's Identity & Inclusion (i2i) committee. As a second-year medical student, Diana has also coordinated lesson plans and served as a guest facilitator for two modules of the first-year "Health Care Disparities and Advocacy" course: 1) allyship training and 2) LGBTQ+ intersectionality.
Under the mentorship of Dr. Marshall Chin and Dr. Scott Cook, Diana is conducting community health research on improving the healthcare experiences of transgender people of color as part of the Your Voice! Your Health! project.