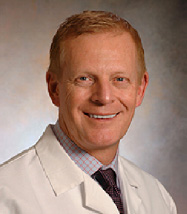 Douglas Dirschl, MD
2014 Alumni Scholars, Master Clinicians
Douglas R. Dirschl, MD, is a highly accomplished surgeon and an expert in orthopaedics. He specializes in caring for patients with musculoskeletal trauma and fractures, as well as other injuries and diseases of the bones, joints and muscles.
Dr. Dirschl's research focuses on the assessment of factors that influence reliability in classifying fractures. He has studied the quality of radiographs, as well as the use of decision-making strategies to enhance reliability. Dr. Dirschl also studies the biological basis of surgery, including the relationship between hemorrhage in pelvic fractures and pelvic bleeding. His research has been funded by the National Institutes of Health (NIH).
A leader in medical education and health policy, Dr. Dirschl teaches medical students, residents and physicians about orthopaedic trauma, musculoskeletal pathophysiology and fractures. He has authored three books, more than 30 book chapters, and more than 75 peer-reviewed scholarly articles. In addition, Dr. Dirschl sits on editorial and review boards for several notable scientific journals, including the Journal of Orthopaedic Research, Journal of Orthopaedic Trauma, and Journal of Bone and Joint Surgery.
Dr. Dirschl previously served as president of the American Orthopaedic Association.
As of 2023, Dr. Dirschl is the Chair of the Orthopaedic Surgery Department at Baylor College of Medicine.