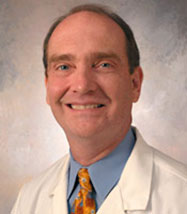 Edward Garrity, MD
2017 Senior Faculty Scholars
Dr. Edward Garrity is a Pulmonary and Critical Care Specialist focused on lung transplantation and the management of advanced lung diseases. Dr. Garrity is considered to be among the early adopters of lung transplantation as therapy for chronic lung diseases.
Dr. Garrity was deeply involved in the development of the current system for allocation of donor lungs for transplantation, and helped to reduce mortality of those awaiting the life-giving organs. Ed joined the faculty at The University of Chicago as a Professor of Medicine in 2005.
Dr. Garrity pursued a long-standing interest in Ethics via The MacLean Center for Clinical Medical Ethics fellowship in 2017. He continues to devote energy to the Pritzker School of Medicine Admissions Committee and his own abiding interest in the compassionate care of his patients, including those served through the Bridgeport Free Clinic. Dr. Garrity is recognized as a wonderful doctor, who always does his best for his patients and who works to instill that same desire in his students and trainees.