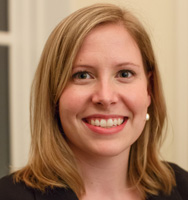 Elizabeth Rhinesmith, MD
2010 Alumni Scholars, Medical Student Scholars
Elizabeth graduated magna cum laude from Harvard College in 2005 with an AB in Economics, a Certificate in Health Policy and election to Phi Beta Kappa. Following her graduation, Elizabeth worked as an associate consultant at Bain & Company and in the Emergency Department of the University of Virginia Health Center.
As a medical student, under the mentorship of William Meadow, MD, PhD, Professor of Pediatrics and Co-Section Chief of Neonatology, and Neethi Pinto, MD, Assistant Professor of Pediatrics, Elizabeth has conducted research on the accuracy of care team prognoses regarding patient outcomes after hospitalization in the Pediatric Intensive Care Unit.
Elizabeth has served as the co-coordinator of the Washington Park Children's Free Clinic, a student-run clinic for underserved children. She also serves as a member of the Pre-Clinical Curricular Review Committee, charged with reviewing the first two years of the medical school curriculum.
Dr. Rhinesmith is a pediatrician at Children's National Medical Center in Washington, DC.