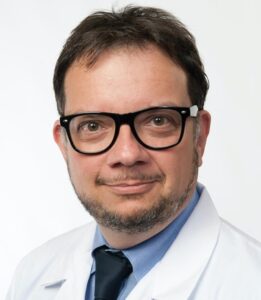 Ervin Kocjancic, MD
2022 Senior Faculty Scholars
Ervin Kocjancic is a skilled reconstructive urologist who specializes in pelvic health, urinary incontinence, and reconstructive surgery for female, male, and transgender patients. He has expertise in gender affirmation surgery and complex reconstructive genitourinary conditions. He is devoted to investigating new and/or better treatments for urologic conditions, as well as mentoring students and improving care for patients. He has received numerous awards and citations for presentations, research, teaching, and clinical service.
He is active in several medical and service organizations, promoting the practice and importance of urology around the world. He serves on the editorial board of the International Urogynecology Journal, and as a member of the International Neuro-Urology Society's board of directors. He also served as chair of the International Continence Society's Education Committee.
Kocjancic holds an MD from the School of Medicine and Surgery at the University of Trieste, Italy. He completed a urology residency at the University of Milan, as well as a fellowship in female and reconstructive urology at the Sava Perovic Foundation—Center for Genito-Urinary Reconstructive Surgery in Belgrade, Serbia. Most recently, he was the Lawrence S. Ross Endowed Professor of Urology at the University of Illinois Chicago.