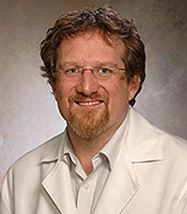 Evan Lyon, MD
2015 Alumni Scholars, Junior Faculty Scholars
Dr. Lyon's academic interests encompass global health, human rights scholarship and advocacy, social medicine, prisoner health, and medical education. He has collaborated with Partners In Health [www.pih.org] in Haiti and at other sites for more than 18 years. He has been extensively involved in physician, nurse, and community health worker training for more than a decade. He is on the board of the Human Rights Program at the University of Chicago and teaches health and human rights at the College Dr. Lyon is the lead faculty on a University of Chicago Delhi Center funded project to advance "Rights-based Approaches to Tuberculosis" in collaboration with the Law School. Dr. Lyon is the lead faculty for the Global Hospital Medicine Fellowship at the University of Chicago, with fellows now working between Chicago and Haiti, Rwanda, and China.
Closer to home, Dr. Lyon is a primary care and hospital medicine physician in the University of Chicago Comprehensive Care Program. Continuing "global health at home," Dr. Lyon delivers home-based primary care on the South Side of Chicago providing continuity between house calls and the hospital. Third year Pritzker students are now accompanying Dr. Lyon to learn from house calls during their core Family Medicine Clerkship.
In 2020, Dr. Lyon joined Partners in Health.
In 2016, Dr. Lyon joined the faculty at Heartland Alliance in Chicago, IL.