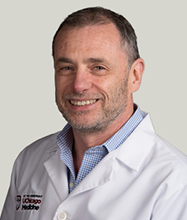 Fernando Goldenberg, MD
2018 Senior Faculty Scholars
Dr. Fernando D. Goldenberg is an Associate Professor in the Departments of Neurology and Surgery (Neurosurgery) at the University of Chicago. He holds the positions of Director of Neuroscience Critical Care Medicine and Co-Director of the Comprehensive Stroke Center.
Dr. Goldenberg earned his medical degree from the University of Buenos Aires School of Medicine in Argentina. He then completed his Internal Medicine residency training in Argentina followed by training in Critical Care Medicine and a fellowship in Neurocritical Care at the Cleveland Clinic. He later joined the University of Chicago in 2002.
Dr. Goldenberg is a contributor to a wide range of research related to the care of critically ill neurological and neurosurgical patients. His current investigations focus on traumatic brain injury, brain death, prognostication after anoxic brain injury and the neurological complications of patients with implanted left ventricular assist devices.
His passion for teaching led him to develop a very successful online educational tool for physicians on Neurocritical Care and Stroke and is currently developing a similar one focused on nursing care.
An active speaker, Dr. Goldenberg has lectured on stroke and brain injury at medical meetings in the United States, Europe, and South America.