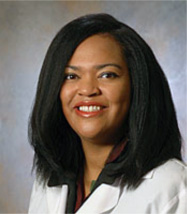 Gina Dudley, MD
2011 Alumni Scholars, Associate Junior Faculty Scholars
Dr. Gina Dudley completed her Medicine-Pediatrics residency at the University of Cincinnati in 2004. She currently serves as the director of the Adult Sickle Cell Care Team at the University of Chicago, where she treats patients with sickle cell disease in the inpatient and outpatient settings. She is a faculty preceptor for internal medicine and internal medicine/pediatrics residents and a clinician in the primary care group. Her clinical experiences and interests include transitional care for young adults with chronic diseases and health care for the homeless and vulnerable populations.
2012 Pilot Grant Project: Development of a Patient Care Card for Individuals with Sickle Cell Disease
As of 2013, Dr. Dudley entered private practice in Memphis, TN.