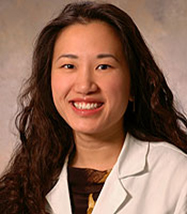 Grace Mak, MD
2015 Associate Junior Faculty Scholars
Dr. Mak has expertise in providing surgical care for children of all ages. She specializes in the surgical treatment of neonatal diseases and congenital malformations, anorectal malformations, inflammatory bowel disease, and pediatric oncology. Dr. Mak is also highly skilled in pediatric minimally invasive surgery.
Her academic interests include surgical education, particularly involving the pediatric surgical fellows. As the Program Director of the Pediatric Surgery Fellowship, she has worked with many national committees to improve the education of pediatric surgical fellows and develop the new Milestones for Pediatric Surgery.
Dr. Mak's research interests include advancement in minimally invasive techniques, innovations in surgical education, and health care disparities. Specifically, she is currently developing a curriculum for the families and care givers of patients with complex anorectal and colorectal malformations. The goal is to improve the education and understanding of these families to provide not only better overall patient care but also enhance the physician patient relationship and allow the families more autonomy.