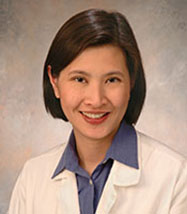 Helen S. Te, MD
2017 Senior Faculty Scholars
Dr. Helen Te is a Professor of Medicine and the Medical Director of the Adult Liver Transplant Program. She earned her Medical Degree from the University of the Philippines and pursued residency training in Internal Medicine at Rush University Medical Center. Dr. Te completed her fellowship training in Gastroenterology, Hepatology and Nutrition at the University of Chicago and stayed on to join the faculty.
Her primary clinical interests are in dealing with the complications of cirrhosis to allow for optimal patient management and health restoration following liver transplantation.
Dr. Te serves on the committees of national societies and has gained a reputation for being a compassionate and astute hepatologist. She has been recognized by her peers with the Department of Medicine Clinical Service Award in 2016 and in 2017, and externally as one of America's Top Doctors consistently since 2011.
Dr. Te's passion lies foremost in patient care and she finds ways to deliver the optimal personal care that is essential for each patient by earning their trust and placing herself in their shoes.