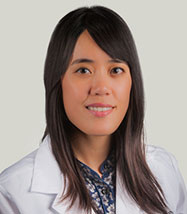 Holly Shiao, MD
2018 Alumni Scholars, Associate Junior Faculty Scholars
Dr. Holly Shiao is an Assistant Professor of Psychiatry and Director of Emergency Psychiatry. She has a special focus on Psycho-Oncology, providing care to cancer patients both in hospital and clinical settings. She is also an attending on the Consultation/Liaison Psychiatry service.
Dr. Shiao attended medical school at John P. and Kathrine G. McGovern Medical School at the University Health Science Center at Houston. She then completed a General Psychiatry residency at the University of Texas Medical Branch at Galveston, followed by a Consultation/Liaison fellowship at Dell Medical School at the University of Texas at Austin.
Dr. Shiao is interested in the benefits of mindfulness and supportive psychotherapy for patients. She also teaches and serves as a mentor for the residents.
In 2020, Dr. Shiao joined the faculty at the University of Washington in Seattle, WA.