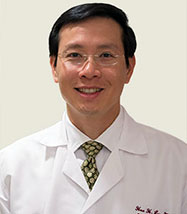 Hue Luu, MD
2019 Senior Faculty Scholars
Dr. Hue H. Luu is a professor of Orthopaedic Surgery and Rehabilitation Medicine and the Associate Director of the molecular oncology lab. Dr. Luu attend the Pritzker School of Medicine and completed his internship, residency, and fellowship at University of Chicago Medicine.Dr. Luu specializes in hip and knee replacements as well as the surgical care of bone and soft tissue tumors. He is an expert in both direct anterior approach and mini-posterior approach total hip replacements. Direct anterior approach total hip replacement is a more muscle sparing and less invasive technique that allows for a more rapid recovery.
Dr. Luu also uses the state of the art Robotic Arm Assisted technology for total hip, total knee, and partial knee replacement surgeries. Robotic assistance allows for more precision and less soft tissue damage. He strives to give outstanding care to his patients to help restore their quality of life and function. Dr. Luu works with a multidisciplinary physician team to provide comprehensive care for patients with benign and malignant musculoskeletal tumors.
Dr. Luu's research interests include the fundamental mechanisms regulating bone biology and bone regeneration as well as outcomes research in total joint replacement patients.