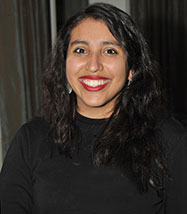 Itzel Jazmín López-Hinojosa
2019 Medical Student Scholars
Itzel Jazmín López-Hinojosa graduated cum laude from Washington University in St. Louis in 2017 with a BA in Biochemistry and American Culture Studies. At WashU, Itzel led educational and policy discussions related to health disparities as a peer mental health counselor. In addition, she wrote a thesis exploring the experience of Latinx undergraduates with mental health. After college, Itzel returned to her alma mater, Illinois Math and Science Academy, and served as a residential counselor.
As a 2019 Albert Schweitzer Fellow, Itzel developed healthy eating and exercise curriculum for 3rd and 4th graders, and an empowering and mentorship curriculum for high school girls living in Back of the Yards. At Pritzker, Itzel is the Co-President of the Latino Medical Student Association, a laboratory coordinator for the Community Health Clinic, and the curriculum development chair for the Chicagoland Clinic Consortium. She co-organized both the annual Black and Latina Women in Medicine Forum and the Annual Regional LMSA conference.
This summer Itzel traveled to Peru to provide cervical cancer screenings with REMEDY, a service-learning program. As a Medical Organization for Latino Advancement scholar, she works with Dr. Pilar Ortega to assess a ten-module medical Spanish curriculum for clinical interviews and physical exams using pre- and post- assessments. She is currently working with Dr. Elizabeth Tung to understand the lived experience of Spanish speaking immigrants with violent political rhetoric and its implications on health.