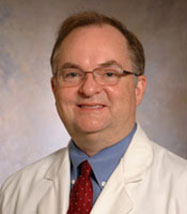 J. Michael Millis, MD
2015 Senior Faculty Scholars
Michael Millis, MD, Professor of Surgery at the University of Chicago since 1994 is the Chief of the Section of Transplantation and Director of the University of Chicago Transplant Center. He is certified by the American Board of Surgery in both General Surgery and Surgical Critical Care. He is an internationally renowned expert in pediatric and adult liver transplantation. Dr. Millis has pioneered new techniques of operating on the liver, and has performed more liver transplants than any other surgeon in the region. He is know for his clinical technical skills as well as developing supportive relationships with his patients and their families.
Recognized for his successful interactions with China and other resource challenged areas, lead to his appointment as Vice Chair for Global Surgery at the University of Chicago Medicine in 2015. His goal is to broaden efforts to the increasingly important emerging area of Global Surgery, coordinate and strengthen clinical, research, educational, and humanitarian efforts for faculty, trainees, and students.
Dr. Millis's research explores the application of cellular technology to patient care. For instance, he is investigating how hepatocyte transplantation, extracorporeal assist technology and stem cells can assist in the care of patients with liver disease or liver tumors. His research interests also include health and policy ethics. He is currently engaged with former Vice Minister of Health of the People's Republic of China and current Director of the Organ Transplant and Donor Committee, Jiefu Huang, to help improve the practice and policy of transplantation in China, which is supported by the China Medical Board. He has been instrumental in assisting China move from the use of organs from executed prisoners to a voluntary citizen based organ donation system. He has co-authored articles published in high profile journals such as Lancet with Vice Minister Huang regarding changes in transplant regulation and policy in China.
Dr. Millis has been host to dozens of physicians and scientists from China desiring clinical and scientific experience in the United States. His focus in surgical research has been clinical and translational studies aimed primarily on improving graft and patient survival suffering from liver disease. In addition he has organized multiple clinical trials in China and is also a member of Chicago's Sister City Committee. Dr. Millis has authored or co-authored more than 100 articles in medical journals and has visited and lectured at hundreds of universities and medical centers around the world.