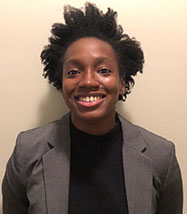 Jamila Picart, MD
2018 Alumni Scholars, Medical Student Scholars
Jamila Picart graduated with honors in Psychology and a minor in Biology from the University of Chicago in 2017, where she was selected as a student marshal. Jamila participated in the 3-year Clinical Excellence Scholar Tract (CEST), which is a collaboration between the College and the Bucksbaum Institute. As an undergraduate, Jamila researched the impact of emotion on memory recollection accuracy.
At Pritzker, Jamila is the Physician/Student Volunteer Coordinator for the Maria Shelter Clinic, a student-run clinic that serves homeless women and children on the South Side. She also was the Student National Medical Association (SNMA) Pritzker chapter Vice-President. As Vice-President, she began a dinner series that created spaces for students of color to seek mentorship from faculty of color and helped to plan the 2018 Midwest Regional Medical Education Conference.
Under the mentorship of Dr. Matthew Churpek, Jamila has also conducted epidemiological research to identify differences in characteristics and outcomes of high-risk ward patients evaluated by rapid response teams.
Dr. Picart is currently a surgical resident at University of Michigan Medicine.