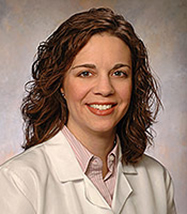 Jennifer McNeer, MD, MS
2015 Alumni Scholars, Associate Junior Faculty Scholars
Dr. McNeer is an Associate Professor of Pediatrics in the Section of Pediatric Hematology/Oncology/Stem Cell Transplant. She attended medical school at New York University School of Medicine, and completed her residency and fellowship training at Children's Memorial Hospital in Chicago. She joined the faculty of the University of Chicago in 2009.
Her clinical and research interests are in the treatment of children, adolescents and young adults with hematologic malignancies, especially those with high-risk or relapsed disease. She is an active member of the Children's Oncology Group, and co-directs the Adolescent and Young Adult Oncology Clinic at the University of Chicago.
Dr. McNeer has been involved in the leadership of the Fellowship in Pediatric Hematology/Oncology at the University of Chicago since 2011, and assumed the role of Fellowship Director in 2013. She is dedicated to the education of future hematologists/oncologists, not only in terms of medical knowledge and procedural skills, but also as it relates to excellent communication between providers, patients, and families.