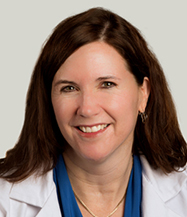 Jennifer Moriatis Wolf, MD
2018 Senior Faculty Scholars
Jennifer Moriatis Wolf, MD was born in Harrogate, Yorkshire, England and grew up in Baltimore, Maryland. She graduated magna cum laude from the University of Maryland, and completed her medical degree at the University of Pennsylvania. She completed her orthopaedic surgery residency and trauma fellowship at Brown University. She went on to do a hand surgery fellowship at the Mayo Clinic in Rochester, Minnesota, and has been on the faculties of the University of Colorado and the University of Connecticut. She joined The University of Chicago in 2016, where her clinical and research interests include the impact of hormones on basilar thumb arthritis, lateral epicondylitis, atypical nerve compression, and osteoporosis. She holds a Department of Defense grant to study the impact of Vitamin D on post-traumatic osteoarthritis.
She is currently the deputy editor in chief for the Journal of Hand Surgery, as well as the hand surgery fellowship director at the University of Chicago. She has been on the governing Council for the American Society for Surgery of the Hand for the past 4 years, first as a member-at-large, and as the treasurer.
She spends her free time with her husband and two sons, and enjoys distance running and traveling.