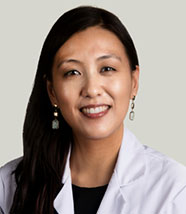 Jennifer Tseng, MD
2022 Alumni Scholars, Junior Faculty Scholars
Dr. Jennifer Tseng is a board-certified surgical oncologist and Assistant Professor of Surgery with the University of Chicago Medicine. She earned her medical degree from the University of California, Davis and completed her general surgery residency at Oregon Health and Science University. She received fellowship training in clinical immunotherapy at the National Cancer Institute and complex general surgical oncology at the University of Chicago Medicine. She is a senior fellow with the MacLean Center for Clinical Medical Ethics and previously was a theme issue editor for the American Medical Association's Journal of Ethics. Her research interests include ethical considerations in clinical trials, the use of surrogate decision makers and prophylactic surgery.
Dr. Tseng integrates the latest research in clinical trials in caring for patients with breast cancer, melanoma and sarcoma. She is a prior national resident representative for the Surgery Residency Review Committee of the Accreditation Council for Graduate Medical Education (ACGME) and is an Associate Program Director for the general surgery residency and complex general surgical oncology fellowship. She is an Education Scholar with the American Society of Clinical Oncology and is pursuing a Masters in Health Professions Education with the University of Illinois at Chicago.
As of 2022, Dr. Tseng is a surgeon with City of Hope Cancer Treatment and Research Center in California.