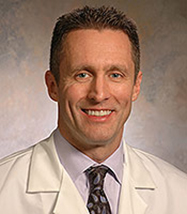 Jerome Klafta, MD
2012 Senior Faculty Scholars
Dr. Klafta is a Professor of Anesthesia & Critical Care and the Vice Chair for Education & Academic Affairs. Dr. Klafta graduated Magna Cum Laude with a degree in Physics from Loyola University in Chicago and received his MD degree from the Pritzker School of Medicine in 1989. He completed his anesthesiology residency at Harvard's Brigham & Women's Hospital before joining the University of Chicago faculty in 1993.
Dr. Klafta served as the Director of the Anesthesiology Residency Program from 1997-2006, and was the Clerkship Director for Perioperative Medicine and Pain Therapy from 1997–2002. In recognition of his outstanding teaching skills, he received the Department of Anesthesia and Critical Care Teacher of the Year Award in 1994, '98, '03, and '04, and was elected into the Alpha Omega Alpha Medical Honor Society in 2000. Two years later he received the International Anesthesia Research Society's Annual Teaching Recognition Award.
2013 Pilot Grant Project: Improving Professionalism for Physicians in Training: A Curriculum based Approach.